First, buy a couple rolls of film before you depart from your Yosemite Motel. Then drive to Yosemite Valley via State Route 140 or SR 41 (depending on whether you are traveling from Mariposa and El Portal, or from Oakhurst).



At the west end of the Valley, stop at Tunnel View (it's on SR 41) for the classic picture-taking location with its panoramic view of the Valley. (Best at sunset or when storms break). 3/4 hour.



Continue into the Valley, stopping at Bridalveil Fall for views of El Capitan and Bridalveil Fall. When you have arrived in the heart of the Valley, park your car at the nearest available day-use parking lot and ride the free Valley Shuttle Bus to the Visitor Center. 1/2 hour.



After touring the Visitor Center, visit the Ansel Adams Gallery, next door, then re-board the Valley Shuttle Bus for a free trip around the Yosemite Valley floor. 1 hour.



Get off at Yosemite Falls for a short walk to the base of Yosemite Falls; at Photographer's Bridge for a picture of Half Dome reflected in the Merced River; and at Happy Isles to visit the nature center. 1-1/2 hour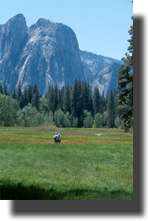 For lunch, dine at the elegant Ahwahnee hotel, have a more casual lunch in Yosemite Village or picnic in any of the Park's many scenic picnic areas. 1-1/2 hours.



After lunch, work off your appetite by walking or bicycling on the Yosemite Valley bike path (bike rentals are available at Yosemite Lodge and Curry Village). Other options are to hike to Mirror Lake from Mirror Lake Shutle Bus Stop or to Vernal Fall from the Happy Isles Shuttle Bus Stop. Both of these walks are about a mile in length, moderately uphill. For a less strenuous option, take a guided, two-hour Yosemite Valley tram tour departing from Yosemite Lodge. This narrated tour includes descriptions of the Valley's famous landmarks and its history. 2 hours.


Depart Yosemite Valley with stops at El Capitan meadow to see rock climbers high up on the side of El Capitan (binoculars are helpful) and at Gates of the Valley, for a beautiful picture of El Capitan reflected in the Merced River. 1 hour.


Upon your return, enjoy a late afternoon swim or well-deserved soak in a hot tub at your Yosemite Motel.



With so much to do, why not two days in Yosemite?